You might remember a
previous post by student Samantha Glovin
, who travelled to a Hollywood awards ceremony with the first collection of glass books last fall and is in the process of filming a documentary about the project.
This semester saw the official launch of the national GlassBook Project, which started a year ago at Rutgers-Newark, who is again leading the way by presenting the first of the state collections. This project looks at the sometimes misunderstood ways trauma survivors cope with their experiences and attempts to remove the stigma and stereotypes that we often associate with them. The NJ project focused on changed relationships after domestic violence, and the collection was unveiled on March 4. Student
Alicia Velicky
posted about it on her personal blog,
veliquified
, and has graciously agreed to let me use some of her photos and words.
Alicia writes in her blog:
Being a part of this project, well first off, I feel privileged. It's been an interesting couple of weeks in making these glass books. In class we have heard and read many stories from survivors of domestic violence, and I'm sure everyone in class can agree, it's been very emotional. My heart is aching for all those survivors who went through things they should have never gone through. We made books out of glass from the survivor's point of view. The healing process is not an easy journey and we wanted to carry this understanding through these books so that the public will be more aware of this.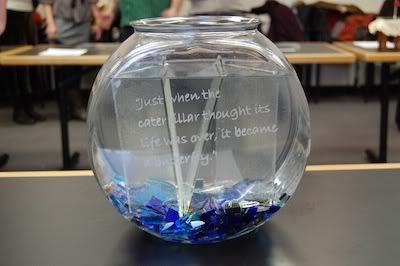 At right; Fishbowl, by Heriberto Maldonado
from his Artist statement:
Have you taken the time to view a fish in its bowl? So peaceful and yet very confined. One may simply stare at such a marvel of life and even tap the glass to get the fish's attention. Now place yourself in that bowl, along with those visible bruises on your face.
Sorry my baggage brings you down, by Professor Nick Kline
Jenna Risano's piece
There are many more photos on
Alicia's blog
and the
GlassBook Project Facebook group
Full disclaimer: I've been involved in the project from the beginning, creating a book for both the first class and this current one, so I'm far from unbiased on this one!